We have made it our goal to serve our customers with the highest quality service possible, so you may spend more time fixing and less time thinking about suppliers. We strive to offer the best components in the market at the most competitive prices. We believe that sustainability of quality can be achieved with seamless quality repair solutions. We have a strong foothold in Europe, USA and China, allowing us access to the best of all worlds. This includes production with high-end technologies at cheaper costs. Our clients know our in-house quality assurance system for getting high-quality repair parts for sustainable use of their devices. We are confident in our services helping you achieve sustainable quality standards and look forward to working with you.

Recycle & Resell
We collaborate with various professional recyclers, refurbishing enterprises and repair shops to help them grow their businesses. IT is intended to facilitate the global wireless industry in dealing with todays E-waste issues and minimizing our carbon footprint.

Strong factory network
We have built a strong factory network with years of connection and professional knowledge in the industry. This has allowed us to offer customized solutions for supplies and access to high-quality repair parts with Chinese production and worldwide access.

Quality Assurance
Our in-house quality testing undergoes extensive quality assurance phases to meet high-quality standards making us one of the top providers for repair parts worldwide.

Industry knowledge
With our extensive experience in the cell phone parts supply chain business, we can understand your requirements better.

Premium customer support
We believe in taking care of our customers, we provide the information needed for our customers and a seamless workflow with fast customer support to get things done on time.

Flexible Collaboration
We can assist you from enterprise-level delivery of products to individual repair facilities. We are known for our flexibility and ability to meet the clients needs.
Recycletroop combines the power of Shenzen with the advantage of local support & Sales. Our network of partner factories combined with our 10 years of professional experience in the repair industry has helped us become a valued spare part & buyback service partner with some if the biggest names in the industry by our side. As a result we strive to achieve top-tier solutions to fulfill the various needs and requirements of spare part distributors, dealers, refurbishing businesses, repair shops and online sellers.
Recycletroop International is a one-stop-service provider for big and small repair shops around Europe. We offer a range of services from a buy-back system for broken screens to sales of new phone parts and screens to sales of high quality refurbished phones.
You are always welcome to visit us in our office in Gothenburg, Sweden or contact us via email or phone for more information about our services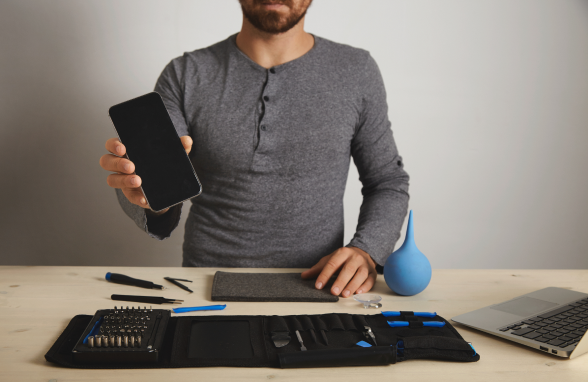 Broken Screen Buyback
Easy and reliable buy-back process for iPhone, Samsung and other broken mobile screen.

Spare Parts
As a supplier of spare parts we understand how important it is to provide only the highest quality products, at the lowest prices possible.

Refurbished Phones
We are the fasted growing marketplace for refurbished products

Advanced Repair Services
We do advanced repairs on the phone's motherboard which requires special tools in order to repair, for example micro-soldering under the microscope.

Industry Knowledge
We have over 10 years of experience in the industry and will always keep you updated on market news.

LCD Screen Refurbishing
A service to replace the glass of cracked phone screen left after repair, which allows the screens to be reused again while saving a costs and keeping the Original Quality.